LEONID MARGARIUS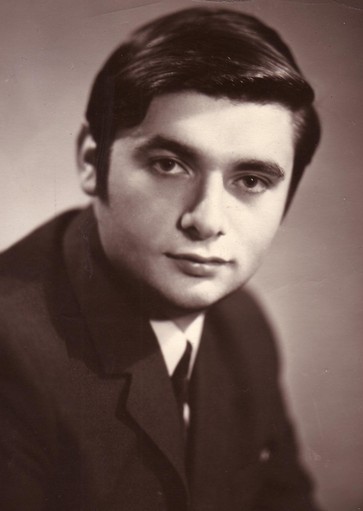 Born in the Ukraine, there he received a specialized musical education, developing his talent under the guidance of Regina Horowitz in the town of Kharkov.

He then went on to conclude his studies in the School for High Musical Specialization at the Conservatory of Moscow under the guidance of Gleb Akselrod.

After intensive concert activity, he proved himself to be both an extraordinary teacher and mentor to numerous young artists as well as the winners of some of the most prestigious international piano competitions:
First Prizes at the "Reine Elizabeth" (Queen Elizabeth) Competition in Brussels (1999), the Busoni of Bolzano in Italy (1992 and 2001), the Montreal Competition in Canada (1996), the Paloma O'Shea in Santander, Spain (2005),the Maria Canals(Barcelona 2010,2014), the Maj Lind in Helsinki, Finland (2002), the Concertino of Prague in the Czech Republic (1991), the Minnesota International e-Piano Competition(USA,2009), the Pinerolo Competition in Italy(1998),the "Viotti" in Vercelli(2005), the "Città di Cantù" (City of Cantù) (1998,2001,2005 2006),the"Premio Venezia"(Venezia 2007,2008,2012),the Chopin Competition ( Roma 2009) in Italy among others;
Second Prizes at Busoni, Italy (2003), Rubenstein in Tel Aviv (1996), the London Competition in the United Kingdom (2002,2009), and the Long-Thibaud in Paris, France (2004),the Maj Lind in Finland (2012) among others.
His apprentices have also distinguished themselves at the aforementioned Tchiaikovsky Competition in Moscow,Reine Elizabeth Competition(2003,2007,2010), the Chopin Competition in Warsaw (Poland), and the Leeds Competition (United Kingdom 1989,2009), as well as competitions in Hamamatsu (Japan) and Sydney (Australia), the Unisa Competition in Pretoria (South Africa), the Schumann
Competition in Zwickau (Germany),the Epinal Piano Competition,the Cantu Piano competition,the Busoni Piano competition; the Bach
C
ompetitions in Leipzig and Saarbrucken (Germany), the Lysenko Competitions in Kiev and Lvov (Ukraine),
M.Canals
in
Barcelona,C.Haskil in Switzerland as well as many others.
For his outstanding personal contribution given to national cultural development as well as his role in the preparation of the country's musical elite, the President of the Republic of Ukraine awarded Maestro Margarius with the title of "Leading Personality in the World of Culture" in 1993.
Since 1995, Leonid Margarius has been a professor at the "Incontri col Maestro" International Piano Academy in Imola, Italy.
He is often called to take part in judging some of the most important piano competitions and he holds Master Classes in various
countries throughout the world.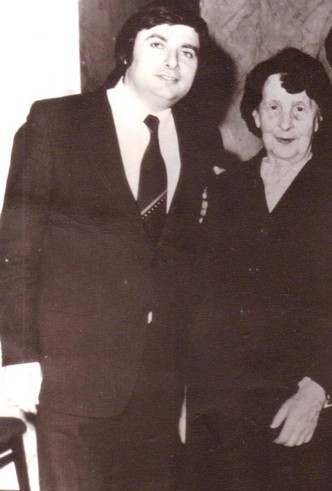 Nato in Ucraina, ricevette lì una educazione musicale specialistica, formandosi nella città di Charkov sotto la guida della Regina Horowitz.Concluse poi i suoi studi presso la Scuola di Alto Perfezionamento del Conservatorio di Mosca sotto la guida del Gleb Akselrod.

Dopo un´intensa attività concertistica, si è rivelato ed affermato come straordinario didatta e come educatore di numerosi giovani artisti nonché di vincitori delle più prestigiose competizioni pianistiche internazionali:
primi premi al Concorso Reine Elisabeth di Bruxelles(1999), al Busoni di Bolzano in Italia (1992 e 2001), al Concorso di Montreal (1996), al Paloma O´ Shea di Santander in Spagna (2005),al Maria Canals(Barcelona 2010,2014), al Maj Lind di Helsinki (2002), al "Concertino di Praga" (1991), al Minnesota International e-Competition(USA,2009),al "Viotti" di Vercelli(2005),al Concorso di Pinerolo(1998),al "Città di Cantù"(1998,2001,2005 e 2006),al"Premio Venezia"(Venezia 2007,2008,2012),al Concorso di Chopin (Roma 2009) in Italia e ad altri;
secondi premi al Busoni (2003), al Rubinstein di Tel Aviv (1996), al Concorso di Londra (2002,2009), al Long-Thibaud di Parigi (2004), al Maj Lind di Helsinki (2012) e ad altri.
Suoi allievi si sono segnalati inoltre al già menzionato Tchiaikovsky a Moscow,Reine Elisabeth in Belgio(2003,2007),allo Chopin di Varsavia, al Concorso di Leeds in Inghilterrra(1989,2009), a quelli di Hamamatsu in Giappone e di Sydney,all´ Unisa di Pretoria in Africa del Sud,all Seoul International Competition in Corea del Sud,allo Schumann di Zwickau,al Epinal Piano Competition,al Cantu Piano competition,al Busoni Piano competition,al Bach di Lipsia e Saarbruecken in Germania,al Lysenko di Kiev e Lvov in
Ucraina,
M.Canals
in
Barcelona,C.Haskil in Switzerland
nonché a molti altri.
Nel 1993, per il grande contributo personale dato allo sviluppo della cultura nazionale e alla preparazione della élite musicale del paese, la Presidenza della Repubblica dell'Ucraina ha insignito il Maestro Margarius del titolo di Personalità benemerita della cultura.
Dal 1995 Leonid Margarius è docente dell'Accademia Pianistica Internazionale Incontri col Maestro ad Imola in Italia.
Viene regolarmente chiamato a far parte delle giurie dei più importanti concorsi pianistici e tiene Master Classes nei più svariati Paes
i.
In der Ukraine geboren studierte er in Charkov bei Regina Horowitz und erhielt als ihr Schüler eine unfassende Klavierausbildung. Später schloss er sein Studium am Konservatorium von Moskau ab unter der Leitung von Gleb Akselrod.
Nach einer regen Konzerttätigkeit offenbarte er sich als großartiger Didaktiker und Lehrer von unzähligen jungen Künstlern, die unter den Gewinnern namhafter internationaler Klavierwettbewerbe zu finden sind: erste Preise beim Reine Elisabeth Klavierwettbewerb von Brüssel (1999), Busoni Wettbewerb (1992 und 2001), Klavierwettbewerb von Montreal (1996), Paloma O'Shea Santander (2005),Maria Canals(Barcelona,2010,2014), Maj Lind von Helsinki (2002), Concertino di Praga (1991),"Viotti"von Vercelli(2005),"Minnesota International Competition(USA,2009),Wettbewerb von Pinerolo (1998), Città di Cantù (1998, 2001, 2005 und 2006),"Premio Venezia"(Venezia 2007,2008,2012), Chopin Wettbewerb( Roma 2009) in Italien…und andere;
Zweite Preise beim Busoni Wettbewerb (1993), Rubinstein Wettbewerb von Tel Aviv (1996), Klavierwettbewerb von London (2002,2009), Long-Thibaud von Paris (2004),Maj Lind von Helsinki (2012)…und andere;
Seine Schüler haben unter anderem beim bereits erwähnten Tchaikovsky von Moskau,Reine Elisabeth Klavierwettbewerb(2003,2007), wie auch beim Chopin Wettbewerb von Warschau, Wettbewerb von Leeds(1989,2009), Hamamatsu und Sidney Klavierwettbewerb, Unisa von Pretoria, the Epinal Piano Wettbewerb,Cantu Piano Wettbewerb, Busoni Piano Wettbewerb,Schumann Wettbewerb von Zwickau, Bach von Leibzig und Saarbrücken, Lysenko von Kiew und Lvov (Ukraine),
M.Canals
in
Barcelona,C.Haskil in Switzerland
und vielen anderen auf sich aufmerksam gemacht.
1993 wurde Maestro Margarius von der Präsidentschaft der Republik Ukraine für seinen persönlichen Beitrag zur Förderung der nationalen Kultur und für die großartige Ausbildung vieler hochrangiger Pianisten mit dem Ehrentitel "Verdienstvolle Persönlichkeit für den kulturellen Beitrag" ausgezeichnet.
Seit 1995 ist er Professor an der internationalen Klavierhochschule "Accademia Pianistica internazionale Incontri col Maestro" von Imola, Italien.
Häufig ist er Yurymitglied von wichtigen internationalen Klavierwettbewerben. Zusätzlich hält er Master Classes in verschiedensten Städten
.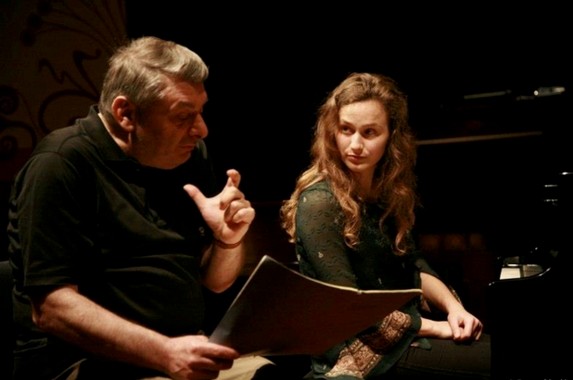 Né en Ukraine, il reçut une education specialisé en musique dans la ville de Charkov sous la guide de la Regina Horowitz.
Il conclut ses études auprès de l 'école de haut perfectionnement du Conservatoire de Moscou sous la direction du Gleb Akselrod.
Après une intense activité de concerts ,il s'est révélé et affirmé comme un extraordinaire enseignant et comme éducateur de nombreux jeunes artistes vinqueurs de différents prix à des prestigieuses compétitions internationales de musique : premiers prix au concours Reine Elisabeth de Bruxelles (1999) ,au Busoni de Bolzano en Italie (du 1992 au 2001) ,au concours de Montréal (1996) ,au Paloma O' Shea de Santander en Espagne (2005),au « Maria Canals »(Barcelona,2010,2014) ,au Maj Lind à Helsinki (2002) ,au petit concert de Prague (1991) ,au concours "Viotti" de Vercelli(2005),
au concours de Pinerolo en Italie (1998) ,au «Città di Cantù» à Cantù (1998, 2001, 2005, 2006),au « Premio Venezia 2007,2008,2012),au Chopin Competition de Roma(2009) en Italie et d'autres encore;
deuxièmes prix au Busoni à Bolzano (2003), au Rubinstein à Tel Aviv (1996), au concours de Londres (2002,2009), au Long-Thibaud à Paris (2004),Maj Lind a Helsinki (2012) et d'autres encore.
Certains de ses élèves ont été signalés outre au déjà mentionné Tchaikovsky de Moskwa,Reine Elisabeth(2003,2007), aussi au Chopin de Varsovie, au concours de Leeds(1989,2009) et à ceux de Hamantsu et de Sidney , à l'Unisa de Pretoria, au Epinal piano concours ,au Cantu Piano concours,au Busoni Piano competitionau Schuman de Zwickau, au Seoul International Competition,au Bach de Leipzig et
Saarbruecken, au Lysenko de Kiev et Lvov en Ukraine,
M.Canals
in
Barcelona,C.Haskil in Switzerland
et d'autres encore.
Pour son importante contribution au développement de la culture nationale et pour la préparation d'une élite musicale dans son pays en 1993, la Presidence de la République de l'Ukraine à décoré le maitre Margarius du titre de personalité bien mérité de la culture.
Depuis 1995 Leonid Margarius est professeur auprès de l'«Accademia Pianistica Internazionale Incontri con il Maestro» (Académie de piano Internationale Rencontres
avec le Maitre) à Imola en Italie. Il est ainsi souvent appelé pour faire partie des jurys des plus importants concours de piano et il tient entre autre des classes de mastère dans plusieurs pays du monde.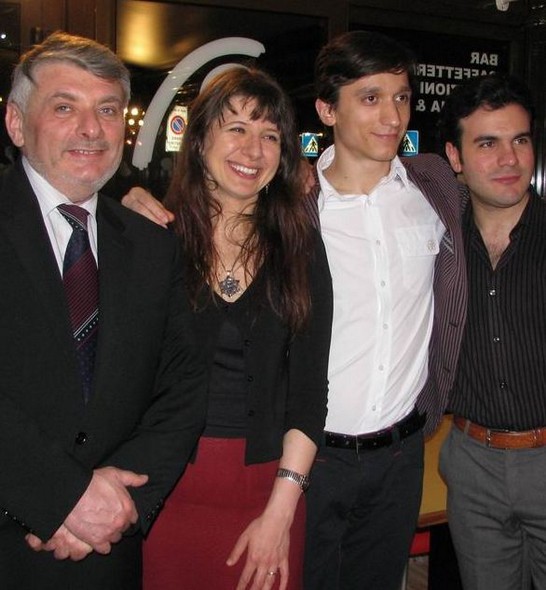 Родился и получил специальное музыкальное образование на Украине в классе Р.С.Горовиц.
Закончил школу высшего мастерства Московской консерватории под руководством Г.Б.Аксельрода.
После окончания активной концертной деятельности проявил себя как незаурядный педагог,
воспитатель многочисленных молодых артистов и победителей крупнейших международных конкурсов.
Среди них первые премии:им.Королевы Елизаветы(Брюссель,Бельгия 1999);им.Бузони(Больцано,
Италия 1992 и 2001);им.Палома О'Шеа(Сантандер,Испания 2005);
"Maria Canals"(Barcelona 2010,2014),Монреаль (Канада,1996),им.Мэй Линд(Хельсинки,Финляндия 2002);
Концертино Прага(Чехословакия 1992);"Minnesota International e-Piano Competition"(США,2009);
им.Viotti в г.Верчелли(2005),г.Пинероло(1997),г.Канту (1998,2001, 2005,2006),
Премия «Венеция»(Венеция 2007,2008,2012),Конкурс им.Шопена в Риме(2009) в Италии и других.
Вторые премии:им.Бузони(Больцано 1993);Монреаль (1996); им.А.Рубинштейна(Тел-Авив,Израиль 1998);
Лондон(2002,2009);им.М.Лонг(Париж 2004),им.Maj Lind в Финляндии(2012) и многих других.
Премии международных конкурсов: им.Чайковского в Москве 2011г.,им.
Королевы Елизаветы(Брюссель)(2003,2007),
им.Шопена (Варшава),Хамаматцу(Япония),Сидней(Австралия),Лидс(Англия,1989,2009);
Претория (Южная Африка);Канту piano competition; имени Busoni,Epinal piano co
mpetition,
им.Шумана в Цвикау;им.Баха в Лейпциге и Саарбрюкене(Германия);
им.Лысенко во Львове и Киеве(Украина),
M.Canals
в Барселоне
,C.Haskil в Швейцарии
и многих других.
В 1993 году за выдающийся личный вклад в развитие культуры указом
Президента Украины удостоен почётного звания «Заслуженный работник культуры Украины».
С 1995 года профессор «Accademia Pianistica Internazionale
Inconctri col Maestro»(Имола,Италия).
Ведёт мастерклассы во многих странах.Член жюри крупнейших международных конкурсов.